Crawford & Danyluk Insurance Brokers Celebrates 90 Years of Community Engagement
Delaware, ON – After three generations of family operation, Crawford & Danyluk Insurance is still going and growing strong. This year, the well-known independent brokerage celebrates its 90 years of service to the Village of Delaware and surrounding communities.
Patty Crawford, now Chairman of the Board, and her brother Larry, are the grandchildren of its founder, Dan Crawford. They came into the business under the wing of their father, Donald Crawford. In 1984, Patty and Larry partnered with their friend, Dan Danyluk, leading to the new name of their Brokerage. Crawford & Danyluk has maintained its current offices on Gideon Drive, near the main Delaware crossroads on Highway 2 (Longwoods Rd.), since 1989.
According to Patty, their place in Delaware is the key to the company's lasting success. "We're really a part of this community. People know us and we know them and our service is geared to looking after the needs of our own neighbours." As an Independent Insurance Broker, Crawford & Danyluk is able to tailor its services to the individual insurance needs of each customer, drawing on the policies of multiple insurers to find the best match. As the business has grown, their neighbours and customers have ranged beyond the Village corners to include London, Komoka, Mt. Brydges and out to Strathroy and beyond.
Their support for the local interests and values is reflected in Crawford & Danyluk's active participation in community activities. "We have been contributing to the school music programs here for many years, as well as local sports teams and charities. We are long-time supporters of the Lions and Lionesses, which gives us another way to reach out to the people who live and work here. Anywhere we do business, we get involved with both the business associations and the social events that keep our communities strong."
In today's business climate, growth is essential to continued survival. But Crawford & Danyluk has been able to expand its business base without compromising its community focus. Instead, the Delaware Team has allied with like-minded insurance brokerages that share its small-town traditions in Aylmer, Dutton and West Lorne.
"We're very proud of the great family that got us to where we are today, through our 90 year history. That includes, not just the Crawfords and the Danyluks of past generations, but all of our extended families, our long‑serving staff and our many loyal customers."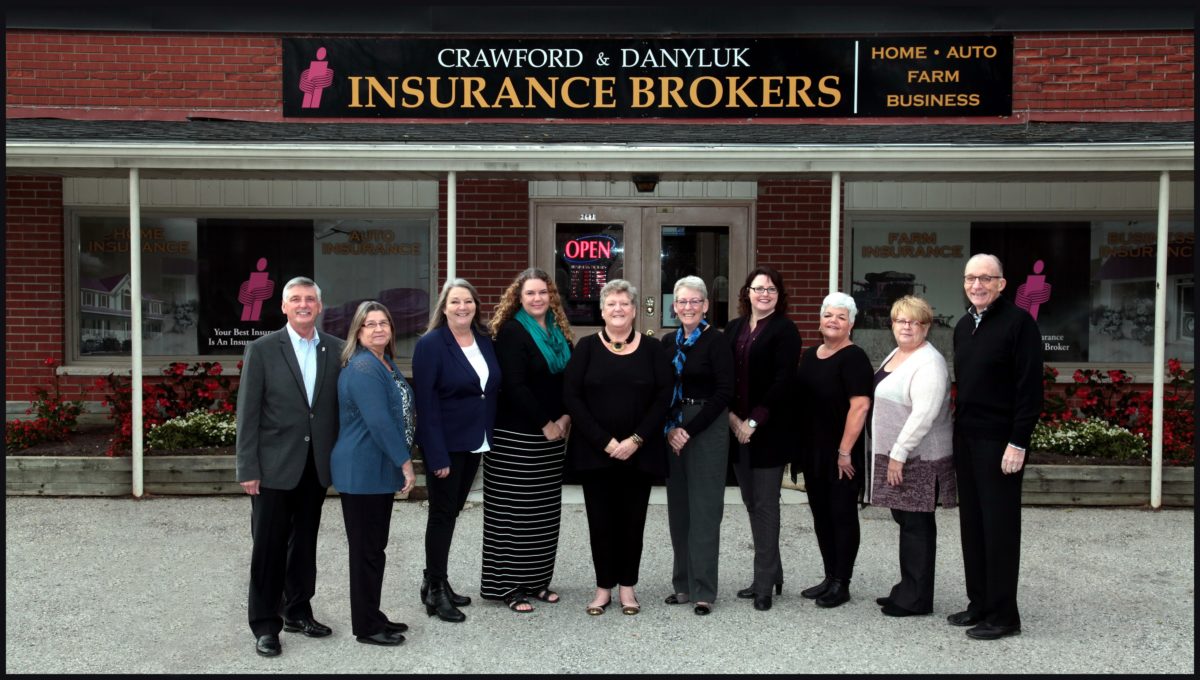 Pictured left to right: Dan Danyluk, Senior Partner; Sue Deeks, Policy Processor; Cathy Fallowfield, Director of Operations; Laura Nemeth, Policy Processor & Bookkeeper; Patty Crawford, Chairman of the Board; Dianne Ennis, Registered Insurance Broker; Sheri Martin, Registered Insurance Broker; Julie Kowal, Policy Processor; Trudy Tessier, Technology Manager & Office Manager; Gary Goyeau, President & CEO.